The following are summaries of recently treated patients. These are actually cases & not fictionalized. For privacy reasons, some details cannot be included.
I hope this gives you some idea of the results that can be obtained by best surgical practices and pilonidal surgery. All patients are different, however, and your outcome may not be the same. No guarantees are made that you will have the same results. I do guarantee to try my best to get you healed. You've got to get on with your life.

The HEAL procedure includes the following steps
Remove all the hair & granulation tissue (that's what surgeons call the stuff that bleeds a lot).  This often requires opening up the skin a fair amount to uncover the entire cyst.
Limited excision of the cyst wall.  This preserves tissue to makes it easier to close.  Rarely is removing tissue "down to the bone"  necessary.
Lift the skin edges of the inner part of the cleft to soften the crease between the buttocks, allow the skin to be closed & reduce the chance of hair getting caught in this space again.
Placing a drain for a few days to remove fluid is sometimes necessary.
Carefully dress the area to give it the best chance to heal properly.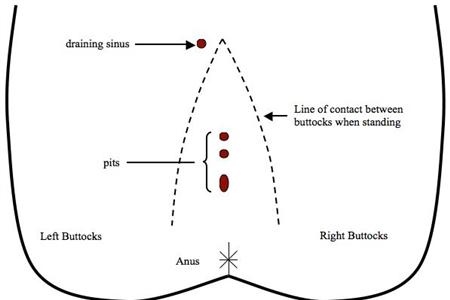 Resources
There is no shortage of information about Pilonidal Cysts, both the reasons it develops or its' treatment. The internet is a wonderful source of information, but can be overwhelming. Here are reliable resources if you want more information

Your Path to Treatment Starts Here
Flexible appointments and Televisits.
Email Or Call —856.429.8030 

A Better Approach to Pilonidal Disease
Advocare Colon & Rectal Surgical Specialists
502 Centennial Blvd #5, Voorhees Township, NJ 08043
info@PilonidalSurgeon.com
Advocare Colon & Rectal Surgical Specialists
188 Fries Mill Rd suite K-2, Turnersville, NJ 08012
info@PilonidalSurgeon.com